This is a timeline of Hopper Island history, comprising legal changes and political events, as well as sociological and cultural events, on Hopper Island.
20th century
Edit
1940-1949
Edit
1947
July 18 - Sherman Hopper bought Hopper Island.
July 18 - The South Pacific Mandate entered UN trusteeship as the Trust Territory of the Pacific Islands. The status of Hopper Island, previously part of the Mandate, was not specified.
August 1 - Sherman Hopper arrived on Hopper Island.
August 12 - Hopper finished his first hut.
August 22 - Cary Castenada, one of Hopper's Navy friends, arrived on the island.
August 31 - Hopper and Castenada finished the dock on the island's northeast side. They called it Coronado Beach, a reference to the city near San Diego, California.
September 14 - Hopper and Castenada finished a second house, now the Beach House Library.
September 27 - Six friends arrived by boat. Two of them (Rose and Bertram Gilpatrick) remained on the island, while the others returned after one week.
September 30 - Construction on a community house began.
November 2 - After months of delay, due to shortage of timber, the community house was finished. The Gilpatricks immediately moved in. Joshua Hunter arrived the same day and also moved in.
November 8 - The first dirt road, between Hopper's house, the dock and the community house, was finished. The first motorized vehicle, a 1944 Ford GPW, arrived by boat on November 13.
December 25 - The inhabitants of Hopper Island celebrated their first Christmas and agreed to proclaim independence on New Year's Day.
1948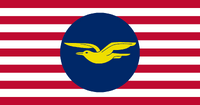 January 1 - Hopper, Castenada, the Gilpatricks, and Hunter proclaimed the island independent and named it Hopper Island. The island had a permanent population of five people and counted four buildings. The flag of Hopper Island, designed by Rose Gilpatrick, was raised for the first time in Coronado.
January 3 - The five inhabitants formed the Pacific Friends Company, to which they conferred the ownership of the entire island. At the same time, they erected the Pacific Friends Assembly (later renamed General Assembly) that was granted the power to make and enforce rules and regulations. All five members were given voting rights in the Pacific Friends Company, and in the Assembly, and Hopper was given exclusive veto rights.
January 5 - The plan was made that about twenty more people would be invited to come to Hopper Island. More people were needed for fishing and various other works.
March 18 - Three adjacent houses were built in anticipation of the new inhabitants.
April 2 - Works on a dirt road leading from Coronado to The Lagoon began.
July 20 - Eight Americans, friends of the Gilpatricks and Hunter, arrived on Hopper Island, planning on living there permanently: Madeleine and William Smith, Olivia and Eugene Rutherford, Mary-Anne Isaac, Helen Saint-John, Robert Draper and Bobby Fitzgerald.
August 21 - Helen Saint-John and Bobby Fitzgerald left.
August 28 - The Smiths finished their own Coronado house.
September 3 - The Brit Albert Powell arrived on the island and immediately began building a cabin on Coronado Beach.
1949
1950-1959
Edit
1950
1951
1952
March 5 - Abilene Gilmore gave birth to a baby girl: Lesley West.
May 28 - The Assembly decided the resident population should not exceed 40 and announced an immigration stop. Population increases due to birth would be allowed.
May 31 - In protest against the immigration stop, John Holland decided to leave the Assembly.
June 5 - Patricia James and John Holland formally entered into a relationship.
1953
1954
1955
1956
August 30 - Bertram Gilpatrick died.
September 7 - Francisco Van Buren was made member of the Pacific Friends Assembly to fill up Gilpatrick's place. In exchange, Van Buren brought in a major investment.
October 2 - Rose Gilpatrick moved in with Sherman Hopper.
1957
January 3 - Annie Buchanan gave birth to a second baby girl: Anne-Marie Bennett-Buchanan. The island's population reached 40 again.
August 12 - Rose Gilpatrick reputedly broke up with Hopper and went to live in a house in Coronado Beach.
September 1 - A new seat in the Assembly was created. James Bennett took the position.
1958
1959
May 20 - An adolescent male from Belgium arrived on the island: Alain Dujardin.
1960-1969
Edit
1960
1961
1962
1963
January 18 - Abilene Gilmore gave birth to a second baby girl, more than ten years after her first: Grace Gilmore West.
February 1 - Construction of the second hut at Sunset Boulevard was finished. Castenada, Hopper, the Rutherfords and the Smiths began to spend part of their days at West End.
July 23 - Tracy Kennedy and her son William Dutch left the island due to conflict with her partner, Rudolph Dutch.
1964
1965
1966
November 2 - Pattie Gilmore gave birth to a second child: Jeremy G. Steinberg. Jemery's birth marked the last birth in a series that became known as the "Baby Boom" (1952-1966).
December 20 - Ben Jefferson and Louie Mather broke up. Mather decided to leave the island.
1967
March 10 - Ben Jefferson decided to leave the island as well.
1968
October 5 - Having noticed the end of the "Baby Boom" period, the General Assembly decided to invite four adolescents to the island. The upper population limit was raised to 50.
1969
1970-1979
Edit
1970
1971
1972
1973
1974
1975
1976
1977
1978
January 1 - Bill Steinberg was made a member of the Assembly, to fill Bennett's seat.
1979
1980-1989
Edit
1980
1981
1982
1983
1984
1985
1986
January 2 - James Gilmore joined the General Assembly, filling Rutherford's seat.
February 15 - Grace Gilmore West gave birth to a third daughter: Sarah Willows.
October 21 - The Marshall Islands attained independence.
November 3 - The Federated States of Micronesia attained independence.
1987
January 1 - The General Assembly agreed upon allowing small numbers of tourists onto the island. By October 1987, one of the huts at Sunset Boulevard would be furnished to accommodate for one couple of tourists. It was also resolved that a new restaurant was to be build on Ocean Street and that the General Store on Utopia Road would be expanded.
January 28 - Twenty-three-year-old Sal Morgan arrived on the island, through a connection with Robert Draper.
July - New arrival Sal Morgan and Susan J. Steinberg, who was born on the island, became engaged in a relationship.
October 10 - The Assembly's goals from January were achieved.
November 2 - One couple of wealthy American tourists arrived on the island. They stayed at Sunset Boulevard and remained on the island for 5 days.
1988
May 4 - Two Australian teenagers arrived on the island: Drew Pidy and Joaquin Rochester. For the first time, the permanent population on the island reached 50.
June - Sal Morgan and Susan Steinberg broke up. After a few days, Steinberg and Joaquin Rochester were revealed to be in a romantic relationship.
1989
January 12 - Cary Castenada died at Sunset Boulevard.
February 26 - Elisabeth Rosen took in Castenada's place in the Assembly.
April 11 - Joshua Hunter died.
April 29 - Rose Gilpatrick moved back in with Sherman Hopper and they remained together until her death in 2007.
July 1 - Maurice P.G. Allen took up Hunter's seat in the Assembly.
October 1 - Laura P. McCandless, a New Zealand adolescent girl, arrived on the island through a connection with the Gilmore family.
1990-1999
Edit
1990
1991
1992
1993
April 7 - Laura McCandless gave birth to a second child: Emma Morgan.
1994
October 1 - Palau attained independence.
1995
June 24 - Laura McCandless gave birth to a third child and second daughter: Amy L. Morgan.
1996
1997
1998
1999
21st century
Edit
2000-2009
Edit
2000
2001
2002
2003
2004
January 16 - Dylan Martinson, a British-American widower, and his son Ryan, were invited to the island.
2005
March 14 - Helena Willows gave birth to a baby girl, fathered by Benjamin Paterson: Kaitlyn Paterson.
September 1 - Under impulse of many people on the island, the General Assembly decided it would devise a plan to increase tourism, targeting very wealthy tourists who look for solitude and isolation from modern technology.
October 10 - A souvenir shop on Utopia Road opened.
2006
June 7 - Joanna Usher Stuart died.
August 31 - The General Assembly approved the construction of two luxurious tourist residences near the existing developments at Sunset Boulevard.
2007
2008
April 5 - Jane Willows, who had entered in a relationship with Hank M.J. McCain in 2006, gave birth to a baby boy: Tyler McCain.
April 20 - The construction of the Blue Pacific Resort by a Chinese company was finished. The first guests arrived the next weekend.
December 25 - Dimitri Holland went to a hospital in the Philippines, where he was diagnosed with cancer. Having survived the disease, he went to a nursing home in California. His wife Anne-Marie Bennett-Buchanan accompanied him.
2009
February - Jane and Hank McCain broke up; Tyler (whose last name was changed to Willows) stayed with his mother.
October 3 - James Bennett died.
November - Hank M.J. McCain and Olivia Black became a couple.
December 14 - Doreen Sweetzer decided to leave the island and return to the United States.
2010-2019
Edit
2010
2011
2012
January 30 - Drew Pidy joined the General Assembly to fill Stuart's seat.
March 11 - Elisabeth Rosen proposed to the General Assembly to abolish itself after the summer and erect a more democratic and demographically diverse assembly. The proposal was met with mixed reactions.
April - Sherman Hopper's health declined. He decided to stay at the Coronado community center, no longer planning to go out west every now and then.
June 2 - Sherman Hopper was diagnosed with severe throat cancer. The medical team from Australian expected he would die within two months.
June 9 - The Assembly decided to prepare for a major celebration on July 18, 2012 to commemorate that Sherman Hopper bought the island exactly 65 years before. The celebration will also function as a sort of farewell to Hopper.
People on the island
Edit
Included are all people who stayed on the island for at least six months.